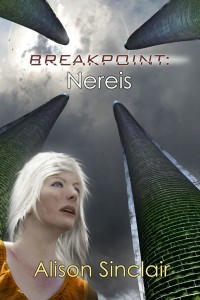 Breakpoint: Nereis was released by Bundoran Press in April 2014. It is the first of the Plague Confederacy series, concerning the voyages of the 50-person starship Waiora (one of nine) on a mixed humanitarian and diplomatic mission to re-contact human colonies in the aftermath of a plague that collapsed an interplanetary human civilization. Their purpose is twofold, to try and ensure the immediate survival of the colonies they contact, and investigate the source and nature of the plague.
Sounds straightforward, right?
But the people on the surviving colonies have their own ideas about what they want, and they're not shy about asserting them. Aeron Ivesen (she on the cover) wants her lands back and their invaders defeated. Her adversary Creon McIntyre will do whatever he has to, to ensure his people's freedom and survival. The history of interplanetary colonization has left its own legacy of bitterness and distrust, and the sponsoring colonies of the mission are anything but united. And two of the crew of Waiora have a separate agenda that could threaten the whole mission.
Reviews/reactions
On LibraryThing | On Goodreads | more … (bookmarked on Pinboard)