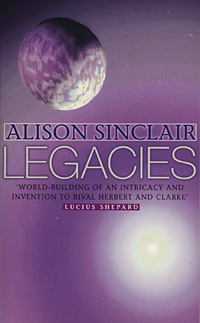 Sixty six years, or five generations, before the start of the story, three starships left Burdania in the midst of a political crisis surrounding continuing space exploration. All attempts at colonization had failed, and space exploration was deemed futile and wasteful. The political dispute turned violent, and, in fleeing the starships' crews activated an experimental stardrive, which devastated the planet caught in its backwash. The explorers settled on distant Taridwyn, made contact with the native kinder'el'ein, and awaited slow extinction.
Despite themselves, they survived and prospered. Five generations on, their colony's future is no longer in doubt, and what is at issue is their past. Can they or can they not find in themselves the courage to return to Burdania? What will they find when they get there?
Among Burdanians, Lian D'Halldt is unique. He has been fostered by the long-lived, empathic kinder'el'ein, and he has been left mildly handicapped by brain injuries received as a child, when he fell through the ceiling of the debating hall into yet another debate on return to Burdania. The Burdanians discount his particular insights, but the kinder'el'ein do not. It is with their support, through their wish to find peace for their unquiet guests, that Lian becomes instrumental to the decision to return. Legacies is the story of that decision and its consequences, for Lian and his people.
Editions
Legacies is now out of print; however, copies may still be tracked down; try, for instance Abebooks.
Millennium (Orion), London, February 1995, ISBN 1-85798-264-9 hardback, ISBN 1-85798-266-5 trade paperback. Cover art by Peter Gudynas.
Millennium (Orion), December 1995, ISBN 1-85798-401-3 mass market paperback. Cover by Peter Gudynas.  October 1998, ISBN 0-75281-707-8, reissue.  Cover art Chris Baker.
HarperPrism, U.S., September 1996, ISBN 0-06-105699-5. Cover art by Danilo Ducak.
Reviews
On LibraryThing | On Goodreads | more … (bookmarked on Pinboard)
"… should be finding new, avid readers well into the next century … At first the continual switching between planets and groups of characters seems disconcerting … But gradually, with the help of Lian's unusually keen perception of character, gesture, mood, we come to know these people and beings more intimately than we generally manage to know ourselves. And Sinclair brings their worlds vividly to life, till the reader is completely absorbed in the moment, with its resonances of past and potential future." (Faren Miller. Locus, May 1995.)
Locus Recommended Reading list for 1995, Locus February 1996.
"… a book that demands to be taken seriously and to a great extent deserves it." (Chris Gilmore. Interzone, July 1995.)
"I found this novel difficult to get into, with the need from the beginning to assimilate two worlds and two sets of alien references. But it was worth it. Legacies is a book of great sensitivity and depth. It raises questions of guilt and responsibility, and it shows there are no easy answers." (Cherith Baldrey. Vector 188.)
"… a rare item, a novel whose conflicts are resolved without violence … actually kept me in more suspense than a standard physical showdown would have. The author has taken a lot of risks in what appears to be a first novel, and pulled almost all of them off successfully." (Age of Wonder. Still seeking exact date and reviewer, but it was early/mid 1997)