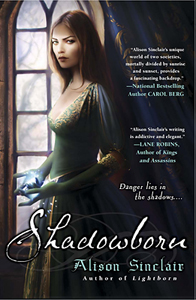 The sequel to Darkborn and Lightborn and the conclusion of the story, released by ROC June 2011.
Magic dies with the mage, or so the Darkborn believe. That's why Lady Telmaine Hearne was condemned to death for sorcery. She narrowly escaped with her life and is now bound with her mageborn allies for the Borders—and the war brewing there. Meanwhile, her husband, Balthasar, has learned of his family connection to the Shadowborn—and is fighting for survival and sanity as their dark magic turns him against everything he holds dear.
At the same time, the new Lightborn Prince Fejelis finds himself stranded in the Borders—on the frontlines of the battle between Darkborn and Shadowborn. Fortunately, the assassin Floria White Hand is maneuvering between allies and enemies to bring her prince home safe, even as she suddenly gains an unexpected and precious new charge.
Now the fragile alliance between Lightborn and Darkborn, between mage and non-mage, is endangered. Even as the Darkborn make their plans, on the other side of sunrise, the mage Tammorn is forced to become ambassador to the enemy. And a lifetime fighting the Shadowborn has not prepared Ishmael for what he will find when he follows the Call from the Shadowlands—and meets the woman behind it…
Reviews/reactions
On LibraryThing | On Goodreads | more … (bookmarked on Delicious)